My Dad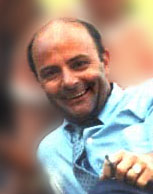 My dad, Karl Hardman Schon, a.k.a. Night of the Living Dead's Harry Cooper, succumbed to pancreatic cancer just after midnight on September 22. He was exactly 80-1/2 years old.

He spent most of his last summer undergoing tests to determine why he was losing weight, but the cancer wasn't discovered until the end of August. At that point the cancer had advanced beyond surgery or treatment. The prognosis for pancreatic cancer isn't good under the best of circumstances, but I'm sad and angry that he had to spend his last precious days and energy being constantly poked, prodded and misdiagnosed. He deserved better.

My dad was a great guy -- always the life of the party -- and it's the good times that I will ultimately remember. He was smart, funny, talented and a lot of fun to be around. I loved spending time with him and I will miss him more than I can say. He enjoyed attending conventions and mingling with fans. It really tickled him that Night of the Living Dead was still so popular and he really loved it when fans would tell him how much they hated Harry Cooper. (He was nothing like old Harry in real life, thank God, yet he agreed that the cellar was the safest place.)

Oddly, the IMDB had, for years, erroneously listed my dad's birthday as September 22, 1922. I tried several times to correct it, to no avail. His actual birthday was March 22, 1927. I discovered last week that they finally corrected the date. It seems eerie now that his date of death would turn out to be September 22. My dad would appreciate the "coincidence" -- if, indeed, there is such a thing.

There will be no public memorial service, but anyone wishing to do so may send donations to The Animal Rescue League of Western Pennsylvania, an organization that was near and dear to my dad's heart.

The Pittsburgh Post-Gazette also has a Guest Book where comments may be left.